2019 MSE Graduation Celebration

MSE 2019 Graduation Ceremony
Saturday, Jun 15, 2019, 9:30 – 11:30 a.m.

All students completing their degree summer 2018 through summer 2019 are encouraged to participate in the ceremony. Autumn 2019 graduates are also eligible to participate in the MSE ceremony (but not the ceremony in Husky Stadium). If you are unsure of your eligibility, contact your academic adviser.
The MSE ceremony begins with brunch at 9:30 and a program with a guest speaker (to be announced). Cap and gown is standard attire for participating graduates and can be rented or purchased.
---
From the 2018 graduation celebration
About speaker Dr. Laura Andersen
Alumna Dr. Laura Andersen, MSE '09, MSE graduation speaker
After graduating from UW MSE with a bachelor's degree in 2009, Laura worked on biomimetic nanomaterials at the Max Planck Institute for Metals Research in Stuttgart, Germany.
As a Ph.D. student, she investigated the microscale structures and properties that lead to high toughness and wear-resistance in bulk metallic glasses. This research was completed in conjunction with NASA's Jet Propulsion Laboratory (JPL) in Pasadena, CA, where Laura validated the use of bulk metallic glasses on NASA's planetary vehicles. Her breadth of materials characterization experience and passion for product development led Laura to an internship in the Alloy Manufacturing group at Apple Inc. in Cupertino, CA.
Having earned her M.S. and Ph.D. in Materials Science and Engineering from the University of California at San Diego in 2011 and 2016, respectively, she currently holds a position as a Sr. Materials Test Engineer in the Materials Reliability group at Tesla Inc. in Fremont, CA.
2018 Distinguished Service Award: Kevin Lewis
Each year the department recognizes the service of an outstanding individual who has demonstrated a unique and meaningful contribution to the materials science academic field, to the department, or to the College of Engineering or the University of Washington.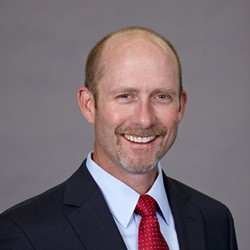 Kevin Lewis, UW MSE lecturer and recipient of the 2018 Distinguished Service Award.
Kevin Lewis is the recipient of the 2018 Distinguished Service Award. Over the past several years, Kevin has served as a volunteer lecturer with MSE, delivering seminars for both MSE 498 and MSE 431. After meeting MSE student Abe Coir through MSE 498 in 2017, Kevin helped Abe find and secure a job as an Engineering Technician at PECO. Kevin's bachelor's in Metallurgy is from Washington State University, though he attended UW as a freshman and sophomore (firmly within our MSE department).
Kevin is Vice President of Fire Forensics at Jensen Hughes Inc. A metallurgical/materials engineer, he specializes in investigating complex and large fires and explosions by analyzing failed piping, refinery equipment, gas regulators and control valves. He has authored many scientific papers on identification of electrical arcs generated during fires in copper and aluminum wiring.