Materials Camp meeting times and locations are subject to change; check back before camp begins.
Start time: 9 a.m. (prompt!) each morning
Meeting location: Meet in Mueller Hall Room 153. Mueller is the UNDERGROUND building off Stevens Way, in front of Roberts Hall! There are steps down to the Mueller building entrance off Stevens Way. If you are dropping students off and want to pull over to do so, you can pull in to the C12 parking lot.
Weekday end times: 4:30 p.m.
Saturday end time: 2:15 p.m.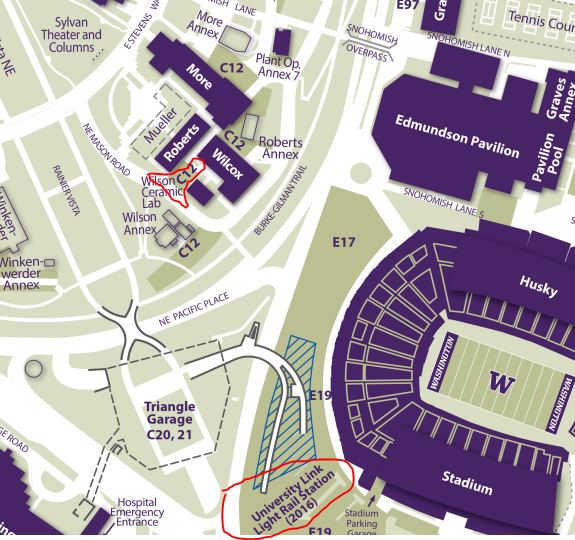 Roberts Hall is at the corner of Stevens Way and Mason Road on campus, and is across the street from the iconic UW Columns.
Getting to campus
Thirty students will be commuting to the UW campus from the greater Seattle area to attend the camp; carpooling is recommended. See the MatCamp Parent Information page for information about the parent contact list.
Directions, drop-offs, parking, and transportation options
Parking on campus is limited to specific lots and requires a paid visitor's permit purchased at one of the gatehouses on campus. The gatehouse staff will tell you where to park and can provide a map and directions from the gatehouse. See the Visit MSE page for more information on driving and parking.
For the BBQ and awards ceremony on Saturday in particular, you may wish to park on campus. During the week, Parking is available for $15/day (pro-rated for stays of 4 hours or less) from any entrance gatehouse on the UW campus. Parking is available for $6/day at parking lot E1 (Montlake lot). Cash and credit/debit cards accepted at all locations. Please consult the campus map for parking and gatehouse locations.
Light rail
Link light rail provides quick access to our meeting spot from downtown Seattle, south Seattle neighborhoods, and Seatac airport.
Bus
Many buses stop nearby. Consult the King County Metro Trip Planner for more details.