UW MSE Prof. Krishnan Receives Humboldt Prize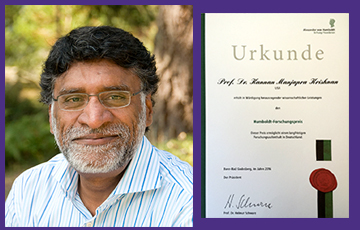 University of Washington Materials Science & Engineering Professor Kannan Krishnan has won the prestigious Alexander von Humboldt Research Prize for his academic achievements. As part of this award Prof. Krishnan is invited to undertake prolonged periods of research in collaboration with German scientists and institutions.
"[He] is well recognized as an international expert in elucidating structure property relations in a wide range of magnetic and spintronics materials," said nominator Professor Michael Farle of the University of Duisburg-Essen Department of Physics. "He has made seminal contributions to Biomedical Nanomagnetics, focusing on the development of engineered magnetic nanoparticles for imaging, diagnostics, and therapy."
The formal ceremony held in Berlin this July was attended by President of Germany Joachim Gauck.
As part of this award, Prof. Krishnan spent three months this summer doing research in multiple institutions in Germany. He plans to spend the 2017 summer in Germany as well.