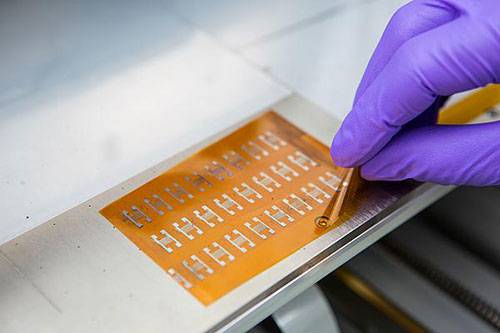 The world is experiencing a materials revolution. Advances in materials have preceded almost every technological leap since the beginning of civilization and engineered materials are crucial to the continued vitality of countless industries. The University of Washington's Materials Science & Engineering Department is at the heart of this revolution preparing our students and conducting research to meet the needs of modern technology.
Student demographics
136
enrolled undergraduate students
134
enrolled graduate students
55
Bachelor's degrees awarded
9
Doctoral degrees awarded
44
Master's degrees awarded
Diversity of Degree Recipients
B.S.
M.S./Ph.D.
Women
35%
38%
Underrepresented Minorities*
9%
9%
International Students
16%
40%
*African American, Hispanic American, Native American and Hawaiian/Pacific Islander
Our mission
The mission of the Department is to be recognized as an outstanding student-centered organization that serves the industrial and academic needs of the University, the State of Washington, the nation, and the international community.
Our goals
The department is organized to achieve its mission by:
Providing the highest quality education and research programs in materials science and engineering that are at the forefront of national trends and integrating with regional strengths/issues/needs so as to prepare our students to function effectively in the evolving global economy.
Serving as the focal point and catalyst for developing high quality, coordinated and visionary research and educational programs for materials-intensive students and faculty throughout the University so as to maximize our visibility and elevate the MSE department into the top tier in the nation.
Strengthening our mentoring at all levels in order to promote the development of a diverse successful group of faculty, students, and staff.
Bachelor of Science (BS) in MSE

Prepares students for graduate work or careers in industry, government, or academia. Learn about undergraduate admission »

Applied Master's Program in MSE (AMP)

The applied master's program is a practice-oriented, non-thesis degree program that prepares experienced engineers for advanced careers in industry, government, and academia. Learn about AMP admission »

Doctor of Philosophy (Ph.D.)

Trains engineers for leadership roles in academia, industry, and research institutions. Learn about Ph.D. program admission »