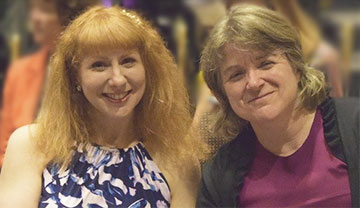 MSE academic advisers: Karen Wetterhahn (graduate student adviser) and Sandra Maddox (undergraduate student adviser)
Your advisers
As an MSE undergraduate student, you have two advisers to help you make sure that you graduate and are prepared for your career or for further study:
MSE academic adviser
The undergraduate academic adviser helps you navigate admission to the department, degree requirements, internship opportunities, applying to graduate school, and career planning. The adviser can also assist you with other things that might be impeding your success, such as personal problems or problems with other UW campus units. All students are encouraged to talk to their academic adviser frequently, but there are certain times you are required to meet with the MSE academic adviser:
When you are admitted to the program
When you file a graduation application (2-3 quarters before you graduate)
If you are on academic warning or probation
MSE faculty adviser
Your faculty adviser supervises your senior project and helps you tailor the curriculum for your career goals. You are encouraged to meet with your faculty adviser to:
Discuss your career goals
Choose electives and pursue internship options based on these discussions
MyPlan
MyPlan is where you plan your academic program and monitor your academic progress. Log in to MyPlan through MyUW, or directly. The undergraduate adviser can assist you in getting the most out of MyPlan, as well as collaborate with you on constructing your plans.
MSE undergraduate student forms
To request permission to substitute a required class in your course of study.
For time conflicts between courses, changes in variable credit, international student course drop, section change, or course dropped in error
To add a minor to your MSE degree, or to change your major. This is a form that you and the MSE advisor fill out together.
Forms for non-MSE majors
Note: Required ONLY for MSE 300-400 level courses open only to MSE majors.
Resources
List of required courses, broken down by subject (math, communications, electives, etc.) and a printable sample 4-year schedule.
For direct or early admission students, how to declare the 'MSE with NME' major.
Requirements for departmental honors designation and how to get ad hoc honors credit for advanced MSE courses.
Information about MSE-related organizations of interest to undergraduates
Coming soon: Study abroad programs of particular interest to MSE undergraduates.
Coming soon: Information for MSE undergraduates interested in research.
Information about the Career Center @ Engineering and a list of MSE-specific jobs from HuskyJobs.
Undergraduate Handbook
The MSE Undergraduate Advising Canvas Site (open to MSE undergraduate majors) is your reference guide to graduating with a B.S. degree in Materials Science & Engineering. It includes information about expectations for students, graduation requirements, finding employment, and other helpful tools to support the undergraduate MSE student experience.