We are proud to have over 2350 alumni representing the University of Washington's Materials Science & Engineering department in our local community and across the world.
We welcome you to stay connected. See what some of your peers are doing and attend an alumni event such as MSE Industry Day, UW Engineering Exploration Night, the Engineering Lecture Series, and join us on social media.
Alumni profiles
Dan Sedlacek, M.S. '14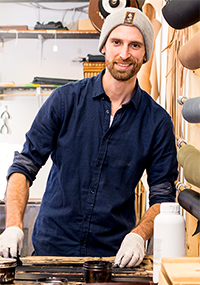 Materials Science & Engineering alum Dan Sedlacek (MSMSE '14) combined his love of nature with his engineering studies to create
Uphill Designs
, a Seattle adventure goods company. Grounded in the belief that adventure is at the root of living fully, Uphill Designs builds product and community for the modern adventurer.
Dan runs Uphill Designs with his partner and Bioengineering alumna, Mallory Monahan (MS '15) and with assistance from UW undergraduate Oliver Marczynski. Dan recently sat down with us to talk about their work and how his background in MSE provides the foundation for their products.
Read more/less »
COE: Uphill Designs grew out of your experiences hiking the Pacific Crest Trail (PCT) and your studies in MSE. Tell us more about these influences.

DS: In 2013, I set out to fulfill a life-long dream and hike from Mexico to Canada along the Pacific Crest Trail. After growing up backpacking in Washington, I knew I had to change my approach if I was going to complete the journey, which totaled 2,665 miles. I needed to pack as lightly as possible but I could not find the exact gear I wanted in stores. So I ended up sewing my own backpack and tent.

From start to finish, the hike took me 101 days. There was a lot of deprivation on the trail, from 40-mile waterless stretches, to hunger pains, to days without talking to another person, and it gave me time to reflect on the gear on my back compared to all of the things we surround ourselves with in everyday life. I appreciated every piece of equipment as if it were an extension of myself, but the equipment I had made resonated much more than the store-bought pieces. For example, I'd invested in some pricey carbon-fiber trekking poles. Sure, they served their purpose, but I started thinking about how out-of-place they seemed on the trail. Then one day as I was hiking up Mt. Whitney, I encountered a guy on his way down who was just using two bamboo poles with duct tape on the ends as trekking poles — natural products in a natural environment. And something clicked...

Were you a MSE student at the time?

Not yet. I studied physics and English as an undergraduate in California and then worked in an oncology research lab at a Boston hospital. After completing the Pacific Crest Trail, I joined the first class of MSE's Applied Master's Program. When I think about how my life and business have evolved, I'm grateful I earned the master's degree.

When I started at the UW, I had natural and raw materials on my mind. The Applied Master's Program was flexible enough to allow me to create my own independent study to write up a business plan for my product idea of bamboo trekking poles. That's when Uphill Designs was born.

How did your MSE background help you develop trekking poles for Uphill Designs?

Most trekking poles are made out of aluminum or carbon fiber — strong, lightweight materials that don't bend. In the lab I performed "bend tests" on these materials and bamboo. I discovered that bamboo was not only lighter weight than carbon fiber and stronger than aluminum but that some kinds of bamboo will bend back to their original form.

Were there other resources at the UW that helped you develop Uphill Designs as a business?

I participated in some of the Buerk Center for Entrepreneurship's competitions. The one that was most beneficial was the Jones + Foster Accelerator, a structured program that helps early-stage student companies through their first six months. In addition to receiving mentoring, guidance and business plan support, Uphill Designs earned the program's $25,000 start-up grant.

I also took a class through the Bioengineering department on entrepreneurship and engineering. It focused on aligning engineering skills with business. It's also where I met my business partner, Mallory.

As you learned more about engineering and business, how did your goals for Uphill Designs change?

The business plan I had originally created shifted dramatically. My goal had been to develop bamboo trekking poles for mass-market audiences, but the more I worked with bamboo, I realized there wasn't a cost-effective, efficient way to mass-produce the poles since every piece of bamboo is unique. So I started moving toward a much different, smaller scale business approach: I saw us investing in materials and artisanship — embracing the handmade element of our work.

After Mallory joined me at Uphill Designs, we expanded the business to include waxed canvas bags and, most recently, leather bags, wallets and belts. Having two engineers on the team really helps us hone our production process and focus on the right pieces of machinery we need for the future growth.

What's the single thing you liked best about studying engineering at UW?

Professors like Kannan Krishnan and Jihui Yang in MSE and Matt O'Donnell in BioE – they set high expectations for students but then shared with us their time and expertise and the resources we needed to excel.

I also valued the MSE program's flexibility. When I was a student, the department didn't offer classes in entrepreneurship and engineering, which is why I studied through BioE. But MSE allowed me to do an independent study through which I created Uphill Designs' business plan. Since graduating, I have kept in touch with the department and provided feedback to help shape an entrepreneurship and commercialization seminar series. Last year I was a guest speaker for the seminar, which was incredibly rewarding.

What's next for Uphill Designs?

We're focusing on growth and business sustainability. We want to participate in more Pacific Northwest makers' markets and get our products into more physical retail shops. Our company thrives on rapid ideation, and we collaborate on custom pieces and continue to fill out our product offering. In the near future, we will open a mixed retail-industrial space where customers can come see our process and find the perfect piece for their adventure. This will also serve as the hub for our growing Uphill Adventures community, a group we've created and led since 2016 focused on free, monthly trips.

Above all, we hope to stay strategic and mindful. We believe in our gear, and I'm grateful to be doing something that I'm passionate about. But it's not easy. To run your own business, you need to be willing to make sacrifices — to put in 18 hour days when necessary, to work if you're sick, to live on a shoestring so your business can get by in tough times. You have to be okay with failing, because it will happen. It's a part of the journey to success, whether that's reaching a revenue milestone as a company or finishing the last mile on the hike of a lifetime.
Keep up with Dan and Uphill Designs at uphilldesigns.com.
Dan Frech, Ph.D. '98 and Mary Katchur, B.S. '96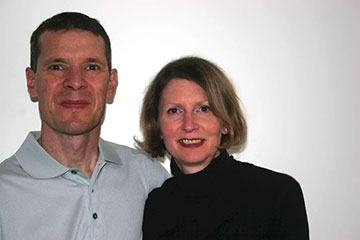 Dan Frech and Mary Katchur are not your typical couple. Sure, like many other Pacific Northwesterners, they enjoy the outdoors and support each other in their individual interests like water skiing and horseback riding. And of course, they beam with pride each time their son reaches yet another milestone in one of the many sports competitions he enters. What sets this couple apart is the experience they shared within the Department of Materials Science and Engineering at the University of Washington.
Read more/less »
More than two decades have passed since Dan and Mary met in Dr. Sarikaya's lab and began their successful technical paths, leading Mary and Dan from the UW to Intel, as Senior Process Engineer and Yield Analysis Engineer, respectively. Mary laughs, picturing Dan in his lab coat — a piece of his wardrobe he never left home. The couple underscores a host of lessons learned at the UW, including the importance of teaching others, the value of working in diverse teams, how to problem-solve and respond to difficult situations, and the value of serving as role models and respecting those who have come before them. All topped by a good dose of fun amid challenging course work.
Their mutual background in and respect for Materials Science & Engineering bolsters their relationship. However, both are quick to point out the care they take to make their life and relationship much more than just their engineering careers. As Dan advises, even though an engineer's natural instinct is to fix a problem, a partner's role is to listen supportively rather than problem-solve unless explicitly stated!
Career success is another commonality. Dan holds a patent for process development. He is proud of the training materials he developed at Intel and is motivated by the highly technical and detailed problem-solving involved in the failure analysis he and his team performs. Mary, who has been ecstatic to train on and use several transmission electron microscopes during her career, has moved on from being an individual contributor to team manager, allowing her to make a significant impact.
This duo knows they are incredibly fortunate to have received so much more beyond exceptional education from the department. As alumni, they believe it is important to give back. Providing mentorships to young engineers is important. Likewise, staying connected to faculty and emerging trends in the field will increase alumni's ability to contribute to the department. Philanthropic giving is another shared value for Mary and Dan. They feel fortunate to have gained a marriage and so much more from Materials Science and Engineering.
UW Engineering Diamond Award winners
Aaron Feaver 2018 Entrepreneurial Excellence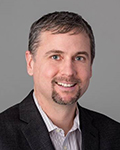 Reducing carbon dioxide in the environment, a driver of climate change, is critical to a bright future for the planet. For the last decade, Aaron Feaver ('07 Ph.D., Materials Science & Engineering) has used his entrepreneurial drive to pioneer the development of new low-carbon dioxide energy sources. His commitment to developing solutions in clean energy has solidified Washington state as a leader in the movement.
In 2003, Aaron left a career at Boeing to build a company in the field of renewable energy. He chose to pursue a degree in materials science and engineering to develop the technology. As a Ph.D. student, he researched low-cost carbon materials for hydrogen storage, laying the foundation for the energy start-up EnerG2. He drove the development of the technology platform, shifting the company's focus three times, from hydrogen storage to natural gas storage to electrode materials for ultracapacitors and lead-acid batteries, before identifying a product to introduce to market.
The great recession of 2008 changed the landscape of clean energy investments, with private capital opportunities shrinking rapidly. Aaron's sharp business acumen helped seize capital investments, solidifying EnerG2's financial stability at a time when other early-stage clean tech companies folded. The team eventually secured more than $20 million to build a pilot plant in Oregon, testing materials and refining the technology. When BASF, the largest chemical producer in the world, invested in EnerG2 in 2015, EnerG2 had proven an ability to increase the lifecycle of their customers' batteries by 10-fold. BASF acquired EnerG2 in 2016, and plants in Washington and Oregon continue to thrive — shipping hundreds of tons of battery material annually. To date, EnerG2 technology has enabled a massive expansion of wind and solar deployment, which is now stabilized with the installation of more than 1 gigawatt hours of energy storage for grid-scale power plants. This figure makes EnerG2's technology the single largest contributor to energy storage globally.
As a member of the UW Clean Energy Institute (CEI) industry planning committee, Aaron brings his expertise to a new partnership between EnerG2 and the CEI in the $140 million Clean Energy Smart Manufacturing Innovation Institute, led by UCLA, that will fund manufacturing innovation in early stage companies. Continuing the collaboration with UW, Aaron hopes to further improve manufacturing efficiency, lower energy usage and improve competitiveness for the EnerG2 technology.
Alan Miller 2015 Distinguished Achievement in Industry
Anyone who has traveled by air can thank Alan Miller, '77 PhD Materials Science & Engineering, for making flights safer and planes more efficient. He's made significant contributions to aeronautic advancements for travelers everywhere. He led the technology development of the world's largest volume of aerospace composite applications and the corresponding manufacturing methods used in the global production system, developing the composite materials and expanding their use in airplane structures. He also developed groundbreaking fire resistant materials used in over 90% of today's airplanes, dramatically improving the safety of aircraft cabins.
Throughout his 34 year career at The Boeing Company, Alan held multiple leadership positions and drove transformative advancements in materials and production systems, as well as improving passenger safety. Most recently, he served as director of technology integration for the 787 Dreamliner program. It was during this time that his group developed the key technologies needed for the game-changing production system that enabled a sevenfold increase in aerospace production and spurred partnerships around the globe. Working with Toray, Alan developed a composite material that was tougher, stronger and lighter. It is used in the 787's fuselage, wing and other structures. Prior to joining the 787 team, Alan directed the materials, processes and manufacturing research and development team. With over 500 professional employees under his leadership, his group made significant improvements to safety standards and efficiency.
Alan earned his BS and PhD degrees in metallurgical engineering. In addition to his many technical contributions and awards, he has spent much of his career fostering relationships between Boeing, the aerospace industry and academia. He has served as affiliate faculty for chemical engineering and materials science and engineering at the University of Washington.
Randy Kurosky 2014 Entrepreneurial Excellence
As the co-inventor of two ceramic oxide powder processes and engineer of over 3,000 different metallic oxide compositions, Randy Kurosky, '88 BS Ceramic Engineering, is responsible for turning Seattle Specialty Ceramics, a technology transfer startup, into a successful business – Praxair Specialty Ceramics. Today, Praxair is one of the premier international companies in the field of electronic grade specialty ceramics. His efforts have contributed to advancements in materials science engineering with applications in superconductors, solid oxide and molten carbonate fuel cells, oxygen transport membranes, thin film batteries, photovoltaics, catalyst supports and nuclear ceramics.
While a materials science undergrad at the UW, Randy co-invented a patented process, Combustion Spray Pyrolysis (CSP) that earned him a record six publication co-authorships. The CSP process yields fine submicron size ceramic powders capable of being deposited as thin, dense and electrically conductive layers on solid oxide fuel cells that are both durable and long lasting. Solid oxide fuel cells are used in everything from mini power grids to military defense applications.
Randy's career began as a research engineer when his CSP technology was spun out into Seattle Specialty Ceramics, and he eventually was named the company's general manager. He has since overseen the growth of Praxair Specialty Ceramics, including several $1M line expansions and the commercialization of additional R&D products. His technical engineering skill combined with his entrepreneurial instincts has advanced the company. His innovations on the synthesis of solid oxide fuel cell materials have become the industry standard.
Bonnie J. Dunbar: 2012: Distinguished Service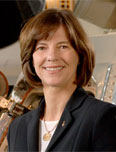 A veteran of five space missions as a NASA Mission Specialist Astronaut, Dr. Bonnie J. Dunbar, '71 BS, '76 MS Materials Science & Engineering, flew aboard the Space Shuttles Atlantis, Challenger, Columbia and Endeavor. She served twice as a Payload Commander and was on the first US-Russian docking mission. Previously she served as a NASA Mission Controller, and held research and engineering positions with the Boeing Co., Harwell Laboratories in the UK and Rockwell International. Following her flight career, Dunbar served seven years in the NASA Senior Executive Service. After retiring from NASA in 2005, she served as President and CEO of The Museum of Flight (MOF) in Seattle until 2010.
Dunbar's contributions to aerospace are truly ground-breaking, and her passionate commitment to youth education and the promotion of women in engineering is inspirational. Starting at UW, Dunbar helped organize a secondary school visitation program, taking science demonstrations into the classroom and was part of the first UW "Women in Engineering" conference. Throughout her career Dunbar has promoted engineering as a career field and advocated for K-12 science education. At NASA, she played a key role in expanding the Space Settlement Design Competition and the Texas Aerospace Scholars Program for high school students, and in leading the Zero-gravity Parabolic flight program for engineering undergraduates. She championed MOF educational initiatives including The Aviation Learning Center, The Challenger Learning Center, Washington Aerospace Scholars, the Aerospace Camp Experience and the Raisbeck Aviation High School to be built on the MOF campus. Dunbar is a role model and never misses an opportunity to inspire students to reach for the proverbial stars.
Dunbar holds a doctorate in mechanical/biomedical engineering from the University of Houston. She is a member of the National Academy of Engineering, a Fellow of several technical societies, and has received numerous awards and honors.
Alumni in the news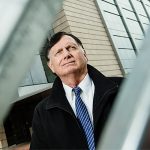 June 2018 | Columns Magazine
Dennis Edmondson: A Study in Persistence
For the new Nanoengineering & Sciences Building, Dennis Edmondson, '80, '13, designed a stud that combined the thermal features of wood with the strength of steel.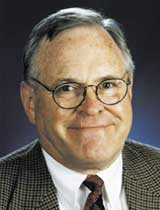 Spring 2010 | Dean's Announcement
James Williams Receives COE Diamond Award
In January 2010, College of Engineering Dean Matt O'Donnell announced that MSE alumnus Jim Williams will be awarded the COE Diamond Award at the May 7, 2010, Diamond Award Presentation event.

Autumn 2008 | Trend
Tom Delimitros: At the forefront in creating value
"Engineering used to be described as a calling, to be undertaken with passion and intensity," said Tom Delimitros, who applied that philosophy to his own career in industry and as a venture capitalist investing in high-tech companies. "Engineers are at the forefront in creating value in our society. I want to see many more young people thinking about an engineering career," Delimitros said.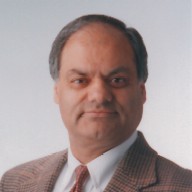 May 2008 | Roberts Hall Review
Hira Fotedar: Starting from scratch
Born and raised in Kashmir, India, Hira Fotedar arrived at the UW in 1966 to pursue his doctorate in metallurgical engineering. Fotedar was the first PhD student of Tom Stoebe, former MSE chair. "Since Tom and I joined UW at the same time, we had to develop the laboratory infrastructure in support of my research," Fotedar said. He used department's machine shop to design and build furnaces, jigs and fixtures for his own studies.
Also see stories about MSE Applied Master's Program alumni »