Encouraging an engineering future

July 17, 2019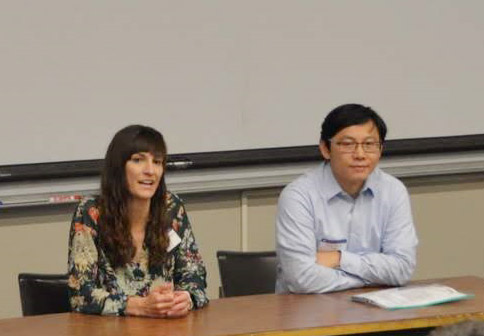 At the culminating event at our 2019 MatCamp for high schoolers, a group of distinguished industry professionals and MSE academics talked about their professional journeys. Panelists spoke about their backgrounds and career paths and offered advice on pursuing an education in materials science.
Industry panelists included Xiaoxi Wang, Systems Engineer, Boeing Product Strategy & Future Airplane Development. Wang spoke to students about the importance of persisence when it comes to the challenge of materials science coursework. "Don't give up easily," he says. In addition, he encouraged them to embrace diversity and inclusion: "It is a great strength to be able to communicate with people from different cultures and background." He calls participating on the panel for such "enthusiastic" students" a "great experience."
Other panelists included George Parker, Boeing; Kevin Lewis, Jensen Hughes; Devin MacKenzie, MSE Associate Professor; and Dana Rosenbladt, MSE grad student. Department chair Jihui Yang moderated.