Kuykendall to leave MSE labs for a private sector opportunity

May 21, 2019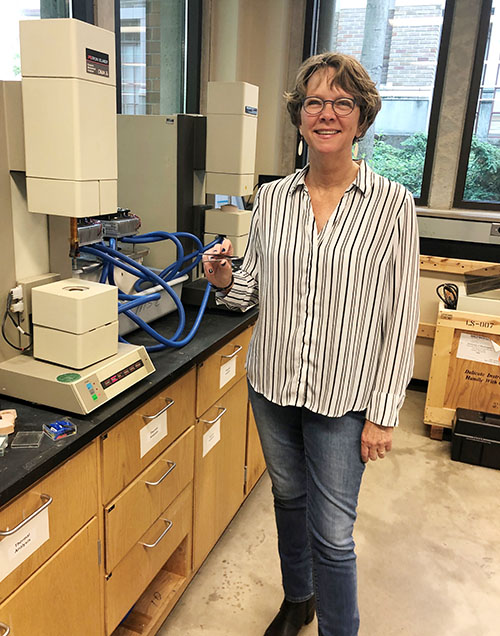 On June 7, the department bids farewell to MSE Lab Manager Tuesday Kuykendall, who has accepted an opportunity in the private sector. Tuesday, who has served as Lab Manager since 2005 and has been involved with the labs even longer, will be missed by the many students and staff with whom she works.
Tuesday started at the labs in 2000 while an undergraduate student in physics. Post graduation, she worked for a time in the private sector, then her fondness for academia brought her back to campus. As manager, Tuesday is charged with the formidable responsibility of keeping the labs running. In addition, she teaches junior-level courses in the department on the use of the myriad instruments in the labs.
Tuesday's many honors attest to her exceptional work. While pursuing her Master's Degree in MSE (which she earned in 2010), she was voted MSE's "Graduate Mentor of the Year"; she was awarded the College of Engineering Staff Award: Professional in 2018; and she has been voted "Instructor of the Year" by MSE students three times, most recently in 2019.
One of Tuesday's best experiences during her tenure was mentoring Tatyana Galenko, MSE Lab Technician. "She's amazing," says Tuesday. "Watching her grow as a woman and as a professional has been one of the joys of my life." She plans to continue mentoring in the MSE department via the senior capstone project. She adds, "I think mentoring is way more beneficial to the mentor than to the mentoree, and I've loved it."
Tuesday's new position is with Jensen Hughes, a consulting firm specializing in fire forensics. She looks forward to the travel she'll undertake in her new position, as well the opportunity to specialize in a particular area of materials science.
"Tuesday has been instrumental in shaping the MSE user facility into a vibrant community for our students, postdocs, faculty and external users," says Jihui Yang, MSE department Chair. "Thank you, Tuesday, for all of your contributions. We wish you all the best for this transition and for moving onto bigger things in your career."