AMP student Varun Kao wins entrepreneurship award

March 11, 2019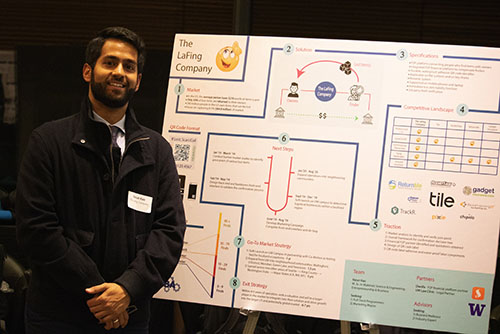 Congrats to AMP student Varun Kao, who won the "Most Enthusiastic Entrepreneur" prize at the 2019 Buerk Center of Entrepreneurship and Foster School of Business' Science & Technology Showcase. Varun spoke with MSE about his enterprise, The LaFing Company, and his future plans.
What is your product?
LaFing is a peer-2-peer platform that connects and financially compensates people who find and return (or organize for the return of) lost items to their owners.
Why is there a need for your service?
Companies have traditionally approached the problem of losing everyday items (keys, wallets, phones, chargers -- the list goes on) from a technological standpoint, e.g., Tile - a Bluetooth tracker. We wanted to harness the power of communities to 'watch our back,' which gave birth to The LaFing Company. We designed our solution to be the following:
Economical
Easy to use
Low maintenance
Fun to engage with
Ultimately, we want our users to enjoy the process and feel rewarded in returning items back to their rightful owners.
What did it mean to win the Science & Technology Showcase Prize?
While it is awesome to have won a prize, the process of preparing for the competition is what I am most thankful for. Moreover, the feedback I gained from speaking with existing investors was helpful!
What's next for LaFing?
We are back to developing our prototype and preparing for subsequent competitions. A part of the development process involves designing and testing the durability of a waterproof sticker with a strong adhesive. The materials science testing is an exciting part of the process.