Theresa Gabrielli
October 27, 2022
Twenty-two students representing 16 different research groups presented projects spanning everything from magnets and batteries to portable dialysis devices at the sixth annual MSE Research & Industry Showcase on October 17.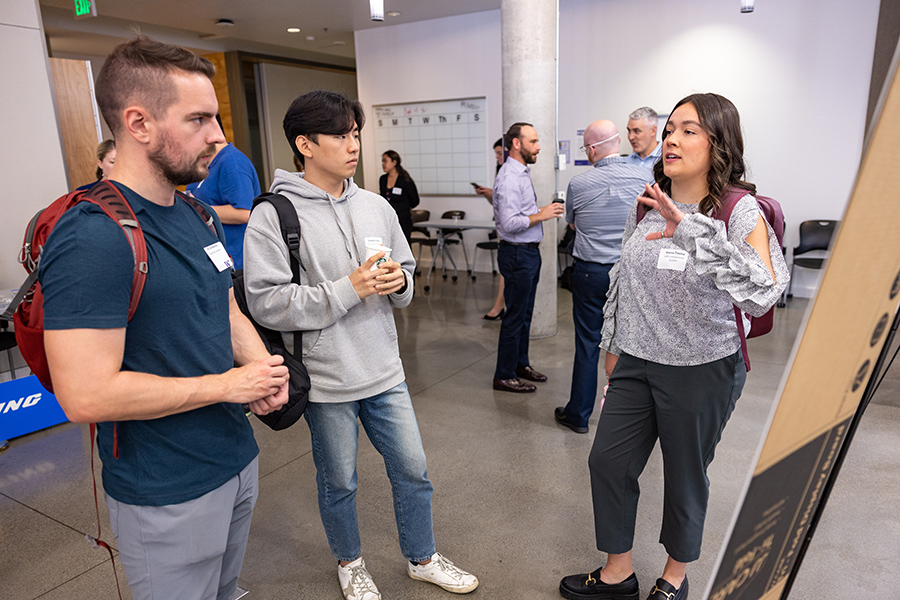 This was the first time in three years that the department was able to put together an in-person event, and nearly 130 students, faculty, alumni and industry partners gathered in Alder Hall to get a taste of the many ongoing research projects at UW MSE.
Julia White, a third-year Ph.D. student in Jihui Yang's lab, gave a presentation on lithium metal batteries. She described how their group had found that using a copper mesh instead of a solid copper foil decreased battery density without significantly impacting its efficiency. This research could be directly applied to future iterations of electric vehicle batteries.
"I'm used to giving this talk to a very battery-centered audience," said White. "It was fun to not get into the nitty-gritty details for this one. I love events like this that force [Ph.D. students] who are so deep in their field to step back and communicate with others outside it."
The event at its core is a networking opportunity, in which MSE students can showcase their talents and knowledge to industry personnel – many of whom are also department alumni – and who may know of internship or job opportunities at their companies where those talents can be directly applied. In addition to oral research presentations and a poster session, this year's event featured a keynote talk from Chris Petz, a 2007 graduate of the department who now is a senior manager at Micron.
"We wanted to create an opportunity to celebrate material fields in academia and industry, as well as help our students understand material industry needs," said Associate Teaching Professor Luna Huang. Industry representatives included employees from Boeing, Intel, nLIGHT, Micron, Toray, Janicki, Meta, Polybiomics and PACCAR. Each of these companies have provided mentors for department Capstone projects, have employed graduates of the department, or both.
Mohamed Azdamou is one of those industry partners, having served as a mentor on two Capstone projects, and is also the adviser for the UW SAMPE team. Azdamou received his B.S. from UW MSE in 2007, and is now an engineer with Boeing. He was one of several people individually recognized during the mentor appreciation session. "Events like this help our company meet people and recruit," he said. "It's also a way for me personally to give back to this community and be involved with the students."
"Having students network with alumni is always the goal, as is recognizing those alumni who have helped the department," said Associate Professor Peter Pauzauskie. "We value their time and efforts to mentor current students."