MSE Industry Day
2020 Industry Day
For the safety of participants, MSE will hold our 2020 Industry Day virtually.
Monday, November 2
Zoom
1:00-5:00 p.m.
About Industry Day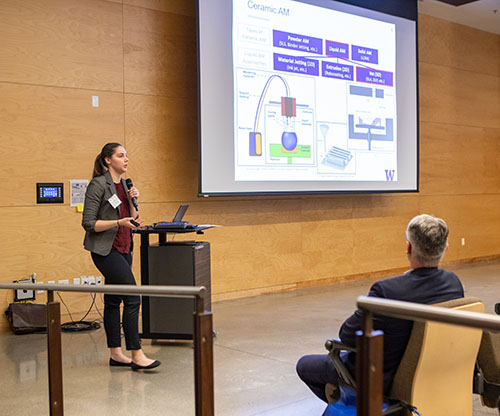 At Industry Day, our graduate students showcase their research through presentations and poster sessions. Professionals and members of academia are invited to learn, network, and meet prospective interns and job seekers.
Presentations and posters at the symposium cover clean energy generation and storage, biomaterials, semiconductors, composites and more. Attendees can find ideas of interest to their organizations while helping to improve the quality of our graduate education.
Schedule
1:00-1:15 p.m.

Welcome by MSE Chair Christine Luscombe, introduction by emcee Peter Pauzauskie

1:15-1:45 p.m.

Keynote: A Career in Research and Development
Leslie Momoda, Vice President, HRL Laboratories, LLC.

1:45-2:00 p.m.

Graduate student research talk

2:00-2:15 p.m.

Graduate student research talk

2:15-2:30 p.m.

Networking session

2:30-2:45 p.m.

Break

2:45-3:00 p.m.

Graduate student research talk

3:00-3:15 p.m.

Graduate student research talk

3:15-3:30 p.m.

Graduate Student research talk

3:30-3:45 p.m.

Graduate Student research talk

3:45-4:00 p.m.

Networking and break

4:00-5:00 p.m.

MSE student lightning talks (poster session)