MSE Industry Day
2019 Industry Day
Thursday, October 24, 2019
Alder Hall, Alder Commons
2:30-8:30 p.m.
Keynote speaker:
Tim McGuire, Senior Manager, HV Battery Research
Mercedes-Benz Research and Development North America, Inc.
About Industry Day
MSE Industry Day is a showcase of our graduate students' cutting-edge research for colleagues, faculty, and representatives from industry. Prospective employers interact with our undergraduate and graduate students and discuss internship and job opportunities.
Our goal is that the symposium provides avenues for collaboration and an introduction to potential employers for our students. Presentations and posters at the symposium cover clean energy generation and storage, biomaterials, semiconductors, composites and more. Attendees can find ideas of interest to their organizations while helping to improve the quality of our graduate education.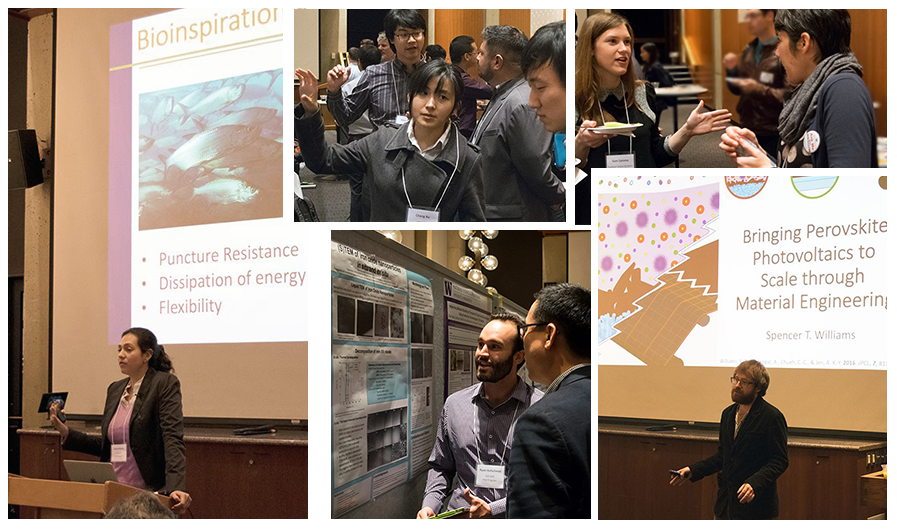 Sample Schedule
Gold Sponsor for 2018


2:30 p.m.
Check-In and Refreshments Served
3:00-3:15 p.m.
MSE Mentor Appreciation
3:15-4 p.m.
Keynote Address from Dr. Linda Cadwell Stancin, Director of Research at Lockheed Martin.
4:00-4:15 p.m.
Break
Graduate Student Presentations
4:15-4:30 p.m.

Sid Rath
Manifold Learning at the Bio/Nano Interfaces: MAT-I

4:30-4:45 p.m.

Jiajun Chen
Building two-dimensional materials one row at a time: Avoiding the nucleation barrier

4:45-5:00 p.m.

Yun Li
A Multi-Functional Interface Derived from Thiol-Modified Mesoporous Carbon in Lithium-Sulfur Batteries

5:00-5:15 p.m.

Anupum Pant
Optomechanical Thermometry of Nanoribbon Cantilevers

5:15-5:30 p.m.
Break
Graduate Student Presentations
5:30-5:45 p.m.

Carolina Vinado
Electrochemical and Interfacial Behavior of All Solid State Batteries Using Li10SnP2S12 Solid Electrolyte

5:45-6:00 p.m.

Jon Onotato
Improving understanding of Mixed Ionic/Electronic Conductors for Novel Electrochemical Applications

6:00pm-6:15pm

Olivia Chang
Chitosan-based Hydrogel for Glioblastoma Cell Spheroid Culture and Drug Screening

6:15-6:30 p.m.
Break. Room will be flipped so please briefly leave the room
6:30-8:30 p.m.
Poster session, meet with employers, networking, wine and heavy hors d'oeuvres reception.
For more information
Christine Luscombe
Robert J. Campbell Professor of Materials Science & Engineering
and Molecular Engineering & Sciences
University of Washington, Seattle
luscombe@uw.edu | 206-616-1220