MSE Industry Day
About Industry Day
MSE Industry Day is a showcase of our graduate students' cutting-edge research for colleagues, faculty, and representatives from industry. Prospective employers interact with our undergraduate and graduate students and discuss internship and job opportunities.
Our goal is that the symposium provides avenues for collaboration and an introduction to potential employers for our students. Presentations and posters at the symposium cover clean energy generation and storage, biomaterials, semiconductors, composites and more. Attendees can find ideas of interest to their organizations while helping to improve the quality of our graduate education.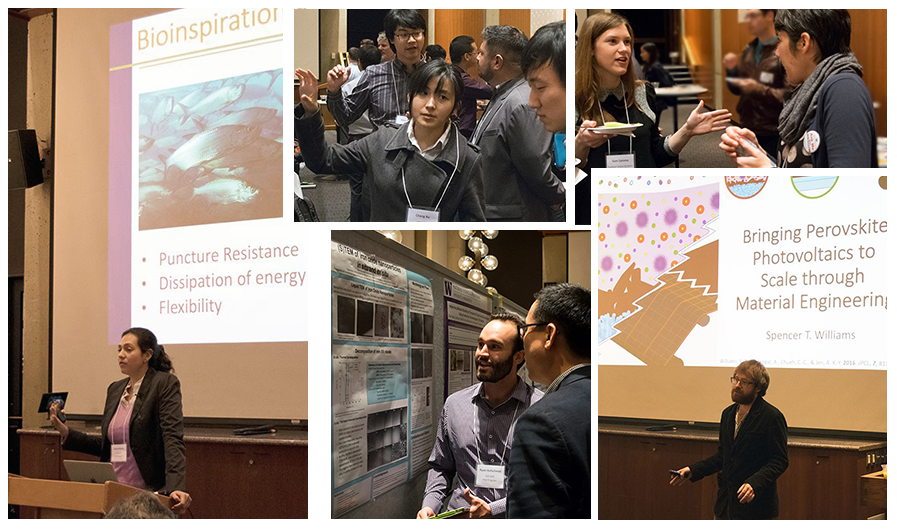 2019 Industry Day
Thursday, October 24, 2019
Alder Hall, Alder Commons and Auditorium
2:30-8:30 p.m.

Keynote:
​"Cloud-Based Functionality and the Future of Mobility: Diversity & Inclusion in the Software Industry, Lessons Learned"
Mike Dosenbach, Site Lead and Director of Cloud & Connectivity
Mercedes-Benz Research & Development North America, Inc. (MBRDNA) Digital Hub
Bio

Mike Dosenbach is the Site Lead and Director of Cloud & Connectivity for the MBRDNA Digital Hub in Seattle, which focuses on Software Development and Cloud Computing for Mercedes-Benz connected vehicles. After over 23 years of software engineering and management experience, Dosenbach has led the Seattle Hub since 2017 and is focused on driving the cloud technologies and new computing paradigms at Daimler.

Dosenbach honors particular cultural values such as open communication, teamwork, diversity, and individual empowerment, all aligned with the ethos of building "The Best or Nothing." Prior to Joining Daimler in 2017, Dosenbach served as a Senior Software Development Manager at Amazon for eight years, managing teams and projects worldwide. He also served in senior application and engineering management roles at Symetra and Okta.

Dosenbach holds a bachelor's degree in computer science from the University of Nevada, Las Vegas, and an MBA from Michigan State at the Eli Broad College of Business. He resides in Seattle with his wife, Jennifer, and their three children.
Schedule
2:30 p.m.-4:15 p.m.
Check-in, MSE mentor appreciation, keynote address. Refreshments served.
4:15-6:15 p.m.

Graduate student presentations

Robert Masse
A platform for battery and electrochemical data science
Carli Marsico
Mechanical performance of additively manufactured zirconia for dental applications
Yunping Huang
Caffeine derivatives: a green and low-cost solution to the scale-up material production for next-generation luminescence devices
Sarthak Jariwala
Local crystal misorientation influences non-radiative recombination in halide perovskites
Rita Olander
Nanomechanical property characterization of adhesive bondlines
Anupum Pant
Solid-state laser refrigeration of semiconductor nanomaterials
Steve Chung
Microwave-assisted synthesis of carbon quantum dot-iron oxide nanoparticles for fluorescence imaging
Reid Schur
Advancing the Application of Metal AM: Process Fundamentals to Next-Generation materials

6:45-7:00 p.m.
Intel opportunities: information session (Auditorium)
6:30-8:30 p.m.

Poster session, meet with employers, networking, wine and heavy hors d'oeuvres reception.

Posters/presenters:

Alex Montelione (Advisor: Dwayne Arola)
Powder Reuse in Electron Beam Melting Additive Manufacturing of Ti6Al4V
Wesley Tatum (Advisor: Christine Luscombe)
Generalizable Toolkit for Unsupervised Classification and Identification of Phase Domains in the Quantification of Nanoscale Morphologies
Siddharth Rath (Advisor: Mehmet Sarikaya)
Towards Closed-Loop, Iterative, Machine Learning at the Bio/Nano Interfaces
Jon Onorato (Advisor: Christine Luscombe)
Effects of Polymer Chemistry on Performance of Mixed Conducting Polymer Systems
Deniz Yucesoy (Advisor: Mehmet Sarikaya)
Biomimetic Dental Care: Preventive, Restorative, Therapeutic & Cosmetic
Breena Sperry (Advisor: Christine Luscombe)
The effect of ligand selection on the grain growth of CZTSSe and graphitic carbon layers
Bevin Huang (Advisor: Xiaodong Xu)
External Control of 2D Magnetism
Sean Ghods (Advisor: Dwayne Arola)
Biomimetic Composite Armor: From Fish Scales to Next-Generation Bulletproof Armors
Martin Brischetto (Advisor: Jihui Yang)
Quantum enhanced hydrogen evolution reaction in monolayer MoS2
Michael Crump and Ted Cohen (Advisor: Devin MacKenzie)
The Scalable Printed Electronics and Energy Devices (SPEED) Research Group
Guanyou Lin (Advisor: Miqin Zhang)
Nanotechnology for Cancer Diagnosis and Treatment
Yang Ding and Xiaoxiao Jia (Advisor: Guozhong Cao)
Design and Control of Bulk Defects and Surface Chemistry of Active Materials for Energy Conversion and Storage
Zainab Patel (Advisor: Vipin Kumar)
Nanostructure Development in Polyetherimide Thin Films
Alex Bard (Advisor: Peter Pauzauskie)
Observation of Void Formation in NaYF4 Nanocrystals using In Situ Heating TEM
For more information
Christine Luscombe
Robert J. Campbell Professor of Materials Science & Engineering
and Molecular Engineering & Sciences
University of Washington, Seattle
luscombe@uw.edu | 206-616-1220